With the vacancy rate in Vancouver reaching the lowest it's been since 2008 it's tempting just to jump on the first rental property you find that seems half-way decent. That said, the only thing worse than not being able to find a rental that fits your needs is being stuck in a lease with a place that turns out to be a whole lot less than what it seemed.
So, even though it's tough out there, you are going to want to make sure you've ticked your way through this pre-rental checklist before you sign anything.
You've gone by during the day and at night.
This one is crucial because sometimes a neighbourhood can seem like a different place depending on what time you're there. When moving to a new area you want to know if it's the sort of neighbourhood where you will feel safe going out for an evening walk and likewise that during the day you're not worried about someone wandering off with your valuables while you're at work.
You've asked about laundry.
Do they have laundry included in the rental? Is it shared with any other tenants? Is there a fee-for-use for the laundry facilities? And, if laundry is NOT included, how far is the nearest laundromat? Sometimes, for the place that's perfect in all other ways, you might be willing to sacrifice on-site laundry. But if it's too much of a commute, you may just want to take a pass.
You've asked about parking?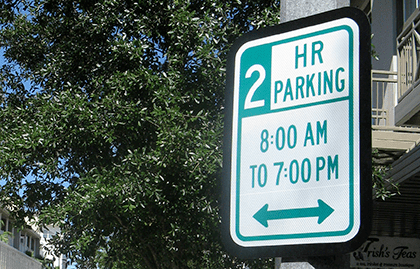 And if there is parking, you then want to find out exactly what that means. Is the parking in a garage? Is it shared? Is it underneath a big old tree that will continually drop sap and other debris on your vehicle? Is it included or is there an additional fee? If parking is not available and you can't live without a car, you will need to investigate street parking. Some areas of Vancouver allow for City regulated permit street parking for an additional fee. Of course, you have to be ok with leaving your vehicle on the side of the road and knowing that you won't always get a spot right outside your door.
You've checked out the lighting in the hallways and common areas?
Just another reason to drop by during in the evening. If it's an apartment rental, do you feel comfortable with the level of light in the hallway? Is the entrance to the building well lit? Do you think you would feel comfortable taking out the recycling at night? If the rental is a house, does it have 360 sensor lighting to ensure you're never caught in the dark? If not, this is a good time to ask if the landlord might instal better lighting.
You inspected the front door.
It seems obvious, but it's so easy to overlook this in the excitement to walk through, what could be, your new home. When you first walk in, make sure you look to see that the seal around the door frame appears to be in good condition. See that the door fits well into the door frame and doesn't have any glaring gaps for air to flow through. No one wants to live in a drafty home. Better to address it before you've committed to living there.
You've opened and closed all the windows.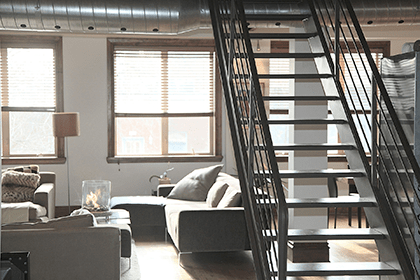 Similarly to the front door, you want to know that the seals are in good shape, that they haven't been painted shut, and that they are properly fit to the frame. A hot summer day is a bad time to realize that your bedroom window doesn't open.
You've tested the locks.
When you're viewing the property, ask to try the keys for yourself. You want to make sure that the lock turns smoothly, and that you are not left having to jiggle it a certain way just to get into your home. This also applies to any secondary entrances and the windows. Make sure all the latches are functioning on your first walkthrough.
You opened all the doors.
This means bedrooms, bathrooms, closets, cupboards, and you've even pulled out the drawers. You want to make sure they all open. Is there ample storage space for your needs? You want to ensure there are no annoying surprises when you move in.
You've turned on all the faucets.
Just like turning on all the vents when you test-drive a car, you just want to see that everything looks and works the way it should. Water comes out, there's no funky smell, and it appears to be clean.
You've spent a bit of time in the rental.
Sometimes it's tricky. The owner or landlord are pressed for time. You have to get back to work. Someone else is scheduled right after you. Still, you're going to want to carve out fifteen or twenty minutes to just stay in your potential new living space. Notice all the sounds that you hear. If the neighbours voices are coming through the wall or the pipes are rattling when you run the faucet. You'll never get a full picture in a short amount of time, but you just might identify some sounds you know you won't want to hear all the time.
Appliance check.
All the burners on the stove light up, the oven bakes and broils, and the fridge hums. In a rental unit, it's up to the landlord to keep these basics in working order, but it's always good to know if there are any repairs or replacements that need to be done. It's better to discuss them upfront rather than find out when you move in that three of four burners are on the blink and you need to put in a service call on day one.
You've tested the electrical sockets.
Probably the best way to do this is to take your phone charger with you. You will want to plug it in all over the place and make sure there are signs of life. It's also a good way to find out if some outlets are controlled by light switches. Not to mention, it will make you aware of the electrical layout of each room and give you a sense of where you will have to position your furniture and electronics.
You've checked for any signs of water damage.
This is a big one. Usually, the easiest way to spot water damage is to look for water stains on the walls and ceilings. Of course, you will also want to check around the window and door frames. Any unusual stains should be taken seriously, as they could be a sign of a leaky pipe inside the wall. Another good place to look is at the connection points for any exposed pipe, under the sink in the kitchen or bathroom, and behind the washing machine. If the caulking is loose or missing, it could be a sign of water damage and a giant headache for you.
You're finished! Once you've checked through the list, you're ready to move ahead with securing your rental. And remember, even if it feels like you're asking a lot of questions, a good landlord will appreciate your thoroughness as it demonstrates to them you plan to take good care of their property.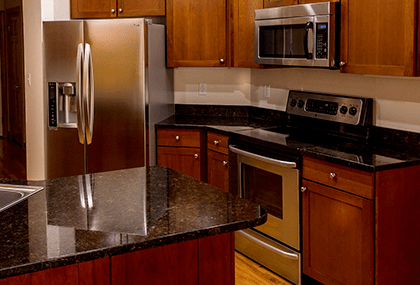 Are you looking for a rental in Vancouver, the Lower Mainland or Whistler? Check out all of our available rentals..
[inf_infusionsoft_inline optin_id=optin_11]