HOW TO FIND A GOOD RENTAL PROPERTY
Buying rental properties could be a good financial move to make and an excellent choice to take since it's one of the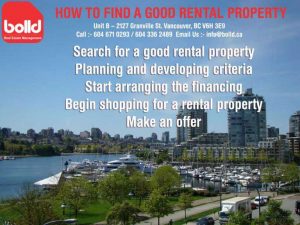 fastest and most secure way to build wealth. However, as in most real estate investment, a lot of hard work and supreme patience must be invested in order to succeed in this type of business. A good rental property should have the following features: good rent to purchase price ratio, minimal maintenance, low vacancy rates, low crime rates, and it must have better schools and decent amenities nearby. Most importantly, it must provide great projected positive cash flow. When you are looking for that perfect rental property, you need to get every expense figured into your calculations, know the returns given the quality of the property and the work needed to make sure you're making a good investment. The steps below will guide you in finding a good rental property.
Search for a good rental property – As a start, you can try searching for the right rental property. Perhaps the greatest challenge that you might face in this step is that you don't always know the questions to ask. You may want to first prioritize some important things like the kind of investment property you want to buy and the location of the property. That is, if it is close or far to your current place of work, study, family and friends. Pay attention to how safe the place is, the kind of neighborhood you want to invest in, the rate of vacancy, the job opportunities and amenities like parks available. You should know how much you can afford to pay for it, what the average rent is, how much is the property tax on this area and what kind of return on investment you hope to make.
Planning and developing criteria – Begin making a plan and setting your criteria once you've done your initial homework. It is highly suggested to write down your plans and goals. Knowing what you want would help you stay motivated and focused on your goals, you won't get confused and it will not be easy for you to get distracted with other things. Also, by doing so, you can hold yourself accountable to your goals.
Start arranging the financing – After planning and developing your own criteria for a good rental property, next step is to make sure that you talk with a bank about how much you can afford to buy before shopping for your new rental property. You have to weigh all your financing options before making your choices. If you don't do this, this might cause you heartache once you've realized that you can't afford your ideal property.
Begin shopping for a rental property – In shopping a rental property, one thing that you can do is to visit several websites that provide lists of rental properties available in specific areas. However, the thing about these sites is that they do not always provide all the information needed. This is the time when you seek the help of a local real estate agent that you can trust to get you more information. An agent will help you find the best properties that will meet your qualifications. You can also read guides and books, talk to renters as well as the homeowners in the neighborhood. Since the renters have no investment in the property, they are far more honest about the negative aspects of the area. Also, to see your future neighbors in action, you can visit it at different times on different days of the week if you want to pursue investing in this particular neighborhood.
Make an offer – After shopping, when you were able to find the rental property that you want to purchase, your next step is to make an offer. Your real estate agent will have to fill out the necessary paperwork based on your requests and submit your offer to the selling agent. The selling agent will be responsible for bringing your offer to the seller. Then, negotiations will begin. Do not be afraid to walk away from the deal if the amount does not makes sense to you. If all important items have been discussed well, you can already sign the agreement with the seller and have mutual acceptance.
Due diligence – After the negotiations and you've finally agreed on a right price, you may have a closing date set. The time for due diligence will then start. You need to hire an inspector that will perform a condition inspection on the property during this period. He will be vigilant in looking for any defects and imperfections that may cost you money in the future. As long as it is within your inspection contingency timeline as specified in your offer, you can always go back and re-negotiate with the bank if something is found during the inspection. Between this period and closing, the financial arrangements will be finalized and depending on your local customs, the title company or a lawyer will take over facilitating the transaction. You will have to sign documents when the day of closing comes and the key to the new rental property will be handed over to you.
Rent your property – Finally, the last step is starting to learn how to rent your property after the deal has closed since you are now a landlord! Although you can earn a fairly substantial amount of income over time, being a landlord is not an easy job. Remember, you will have to emotionally prepare yourself with dealing with bad tenants and evictions, maintenance and repair issues and many more. Companies like Bolld Property Management can help you manage your rental business and save you some of the hassles of being a landlord.
[inf_infusionsoft_inline optin_id=optin_11]