Tenant Guide
Please take a moment to review this page. It will give you guidelines and instructions on how to use our online portal or how to handle various situations that commonly arise over the course of your tenancy.
How to Contact Us?
When it comes to customer service, we believe the key to a good customer service is the communication. We all get frustrated when we do not hear back after sending an e-mail or leaving a voicemail message. We take communication with our clients seriously. It is our top priority to respond to your message in a timely manner. Bolld Real Estate Management has adopted a new communication policy that requires all team members to respond to clients within a certain time period.
Our Response Time Policy
Due to the nature of the property manager's job, the managers have designated times to answer the emails. After 3 pm our managers leave the office to meet clients, attend showings or to conduct inspections. During their appointments they usually do not have the ability to respond to your email or answer your call. Our information system is completely centralized and it is been kept up to date by our Administration team. In Bolld Real Estate Management we do work as a team and our Administration team has the most up-to-date information.
E-mails
For a quick response, please make sure you always copy (cc) info@bolld.ca on your e-mail inquiries. This is our main e-mail address and it is monitored 24/7. Please note this e-mail address, the info@bolld.ca is your primary contact address. You do not even need to CC your manager as our system allows us to distribute the e-mails to the respective team member.
If you email your property manager before 2 pm you will get the response within the same business day. If you email your property manager after 2 pm, you will receive a response next business day by 12 pm. Each manager has an automatic response set up with the details of their working hours. Stress level in property management industry could be high, therefore we encourage our property managers to rest during their free time and do not attend to any work related matters.
Calls
If you require our assistance over the phone, our toll free number 1-855-266-8588 is available 24/7. Our Administration team has all the information available to answer your questions. They do have the most up-to-date information on the rental status of your place, status of any repairs and can guide you to find any financial information.
If you need to talk to your property manager, unless it is just a quick question, we recommend you to schedule a phone call, especially if you need more time to discuss. The response time policy requires the managers to call you back the same business day, if you call before 3 pm and the next business day by noon, if you call after 3 pm. In any case we do encourage you to call our primary line at 1-855-266-8588.
Getting Started
We are committed to make the moving process as easy and transparent as possible. There are a few steps you need to follow in order to get you settled in.
What you need to do:
Read this tenant guide
Set up your utility accounts
Purchase your tenant insurance
Review strata bylaws pertaining to your building (if applicable)
Schedule your move in inspection
Pay move in fee (if applicable)
Book elevator for your moving (if applicable)
Log in to your account to view your documents, make payments, email receipts
Utility Accounts
Unless your tenancy agreements says otherwise, you are responsible for setting up your utility accounts. These include electricity, gas, cable and internet connection. You are responsible for the charges from the start day of your tenancy or getting possession whichever occurs earlier.
Some of the providers are following:
Electricity – BC Hydro
Gas – Fortis BC
Internet/cable/phone – Shaw, Telus, Novus
For cable and internet the providers usually offer various promotions and it is worth to do your research before committing to any provider. It can save you hundreds of dollars annually.
For your convenience we have included the link for each provider below.
Purchase Tenant Insurance
To protect both your belongings and the property we require our tenants to purchase a tenant insurance. A tenant insurance protects your personal belongings in case of fire, theft , earthquake or any other damages and also protects you from potential liabilities.
Prior to receiving the possession of your new home we do require you to submit a proof of insurance. For your convenience you are able to purchase your insurance directly on our website.
Please click on the link below to start.
Strata Rules and Bylaws
As a part of your agreement you sign the Form K, Notice of tenant's responsibilities. By doing so you agree to comply with the strata bylaws. Strata rules and bylaws are set of rules that each strata corporation governs itself. The rules and bylaws usually provide guidelines for peaceful co-living in the building and use of common areas and property.
Move in Fee
Most of strata corporation charge a move in fee for every new tenant and often also for the change of occupancy. This fee is charged directly by the strata corporation and it is absolutely mandatory. We do not have any control over how much each strata corporation charges. Generally the strata corporation requires you to make the payment before you are allowed to book a move in. This fee is generally applicable regardless of whether you are moving furniture or not. It is considered as an administration fee.
The strata corporation also requires you to report any changes in the occupancy. The strata might require a payment of move in fee in such cases regardless of whether you are moving furniture or not.
Moving/Booking the elevator
Due to the number of moves every month the strata corporations require the new occupants to schedule a move in. The reason is to make sure every new occupant has a chance to comfortably move in.
The moving is usually booked by the building manager or the concierge. Please make sure you book your move in as soon as possible to prevent any delays with your moving.
Unauthorized Moving
Moving without booking your move in/elevator is usually considered unauthorized moving and might result in assessment of bylaw fines against your unit. It is not worth to risk. The fines vary from $100 to $500. Once the fine is assessed there is very little you can do.
It is very important that you are familiar with these rules and regulations. The strata bylaws might prescribe the pet policy in the building and other guidelines that will affect you as a tenant.
Non-compliance with the bylaws might result in pricey bylaw fines that will be your responsibility to pay.
If you do not have your strata bylaws please check your online profile first or email us at info@bolld.ca
Online Property Management System Overview
Our online portal is your all in one solution for all your tenant needs. Your account is created at the beginning of your tenancy. You can access your account by clicking on the link below. Your login details are your emails and the password is generated by the system. A link is sent to you at the time of the set up. If you do not have your password, you just need to click on the link "Forgot password" and follow the instructions. If you need assistance, please send us the email at info@bolld.ca and we will be happy to help you.
Home Screen
After entering your username and password you will see the screen below. You can see all the different resources in the red rectangles.
The main screen shows you your transaction history. It shows you payment that you have made, payments that are scheduled and your current balance. If your balance shows $0, that means that your payments are up to date. A balance means that there is a charge you have not paid yet. On the right hand side you will see your basic lease information.
The link to the documents and contacts can be found in the top right corner of your screen.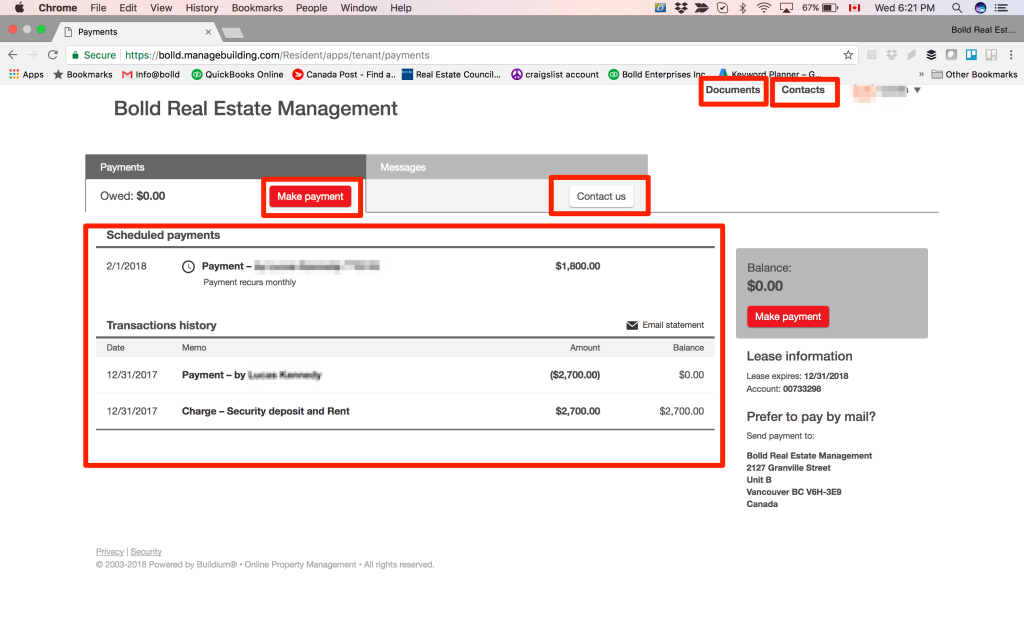 Making a Payment
Making a payment of your rent is easy. All charges posted to your account will show as a balance on your account. All you need to do to make a payment is to click on the "Make a payment" button.
After clicking on the button you will be directed to the "Make a payment" section as shown on the picture below. Your banking information is entered by you and secured. We do not have access to your banking information. Due to credit card charges we only accept ePayments from your bank account. It is absolutely free. Here is how you do it:
Choose Pay with eCheck
Enter the amount
Enter the date of the payment (date when the payment is due)
Enter the frequency – you can either choose a one time payment or set up a monthly automatic payment (for example for monthly payment of the rent)
Enter the account owner name as per the information on your cheque
Choose the account type (checking or savings)
Enter transit number – always 5 digits (view help)
Enter the institution number – always 3 digits (view help)
Enter the account number – length varies between 6 to 15 digits (view help)
Check "Save my Banking info for next time" for future payments
Click on review
Confirm payment
Send yourself a receipt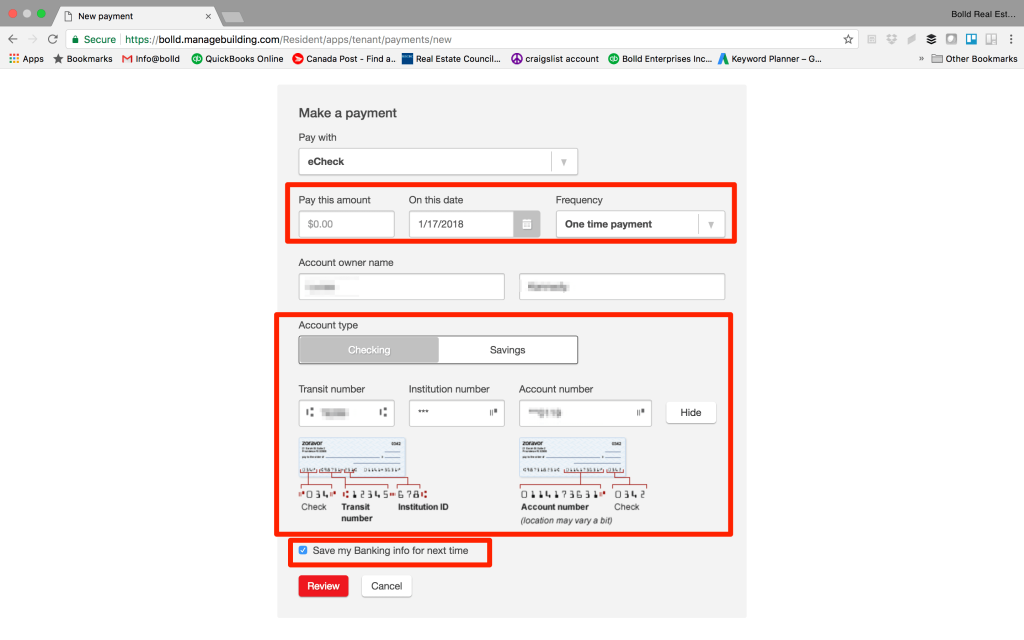 If you need an assistance, we will be happy to set it up for you. Please email info@bolld.ca, if you would like us to assist you.
Rent Payment Receipt
If you are looking for a rent payment receipt, click on the link shown on the picture below to email yourself a statement.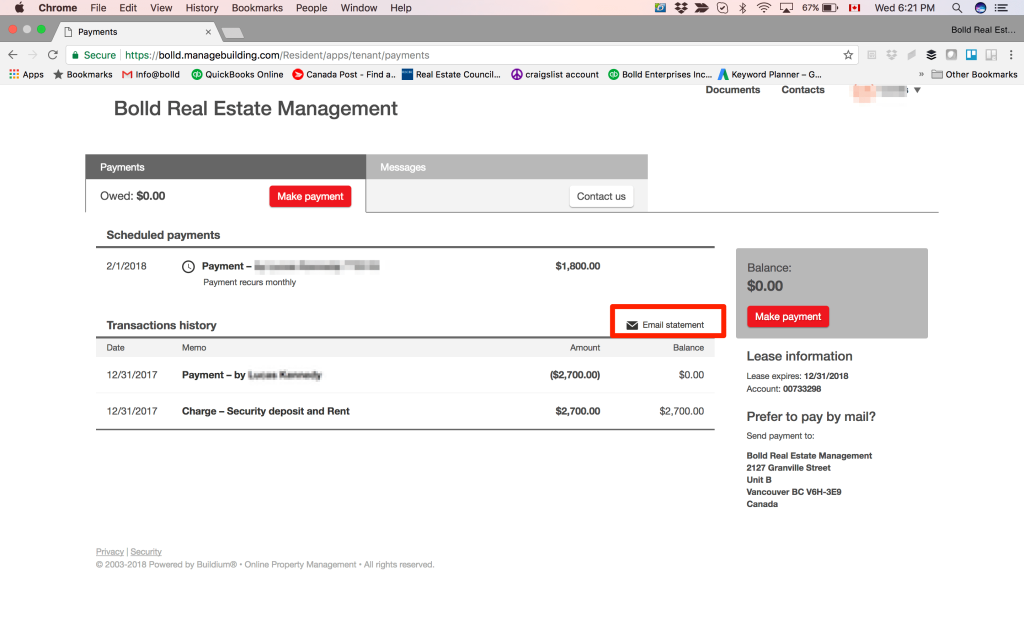 Documents
All your documents are accessible via your profile. Click on the button "Documents" in the top right corner of your screen on your profile page.
Generally we upload:
Tenancy agreement
Move in inspection
Strata bylaws if applicable
You can view or download the documents from the "Documents" screen shown below.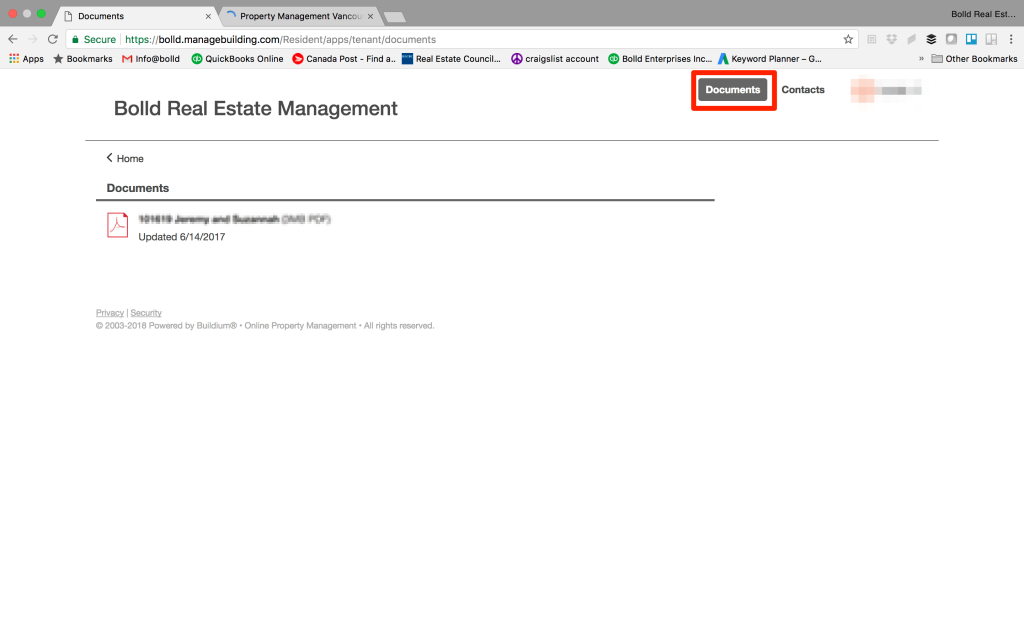 If you are having issue finding any documents, please use the message feature of the portal in your profile as shown below.
Maintenance and Related Requests
If you are having any issues at the property, you have a few options how to submit your request.
If it is an emergency, please call 855-266-8588 immediately. Our phone line is available for emergencies 24/7 365.
For non emergency request please use the form on our website. Please keep in mind that most of the maintenance contractors work during regular business hours, usually Monday to Friday between 9 am to 5 pm. Service calls outside of the business hours are generally very costly.
If you would like to be kept up to date with the progress of addressing your request, you can submit your request via your profile on our residential portal through the message section as shown below. All updates will be shared with you in real time.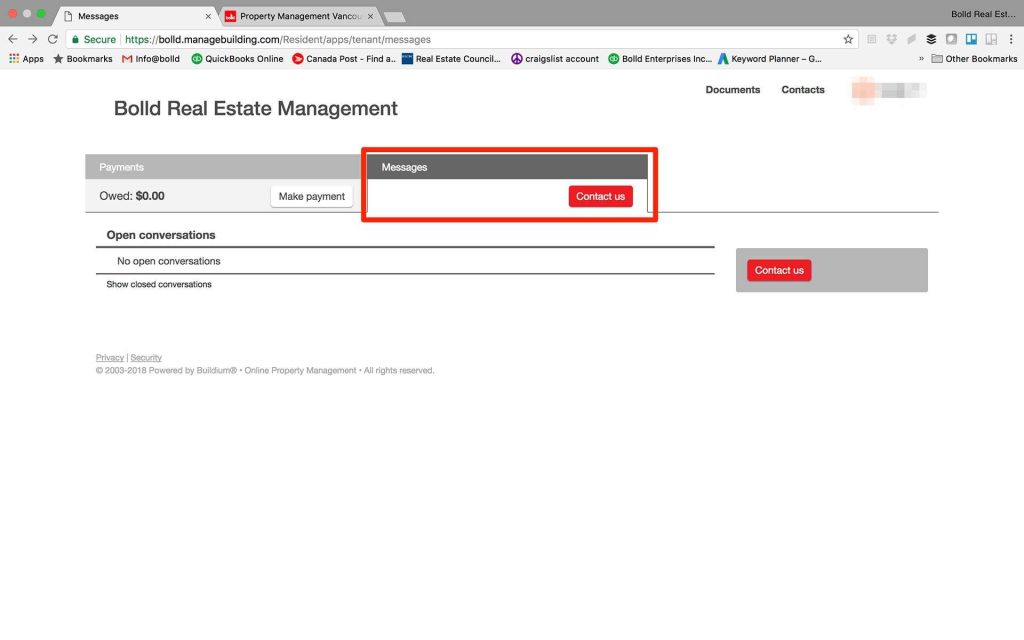 If you have more than one issue, please write us a separate message for each one of your requests. The message allows you to attach documents or pictures. It is always helpful to send us a picture of the problem. It helps the contractor to address the issue more efficiently. Good examples of pictures would be a model number of an appliance or general pictures of the problem.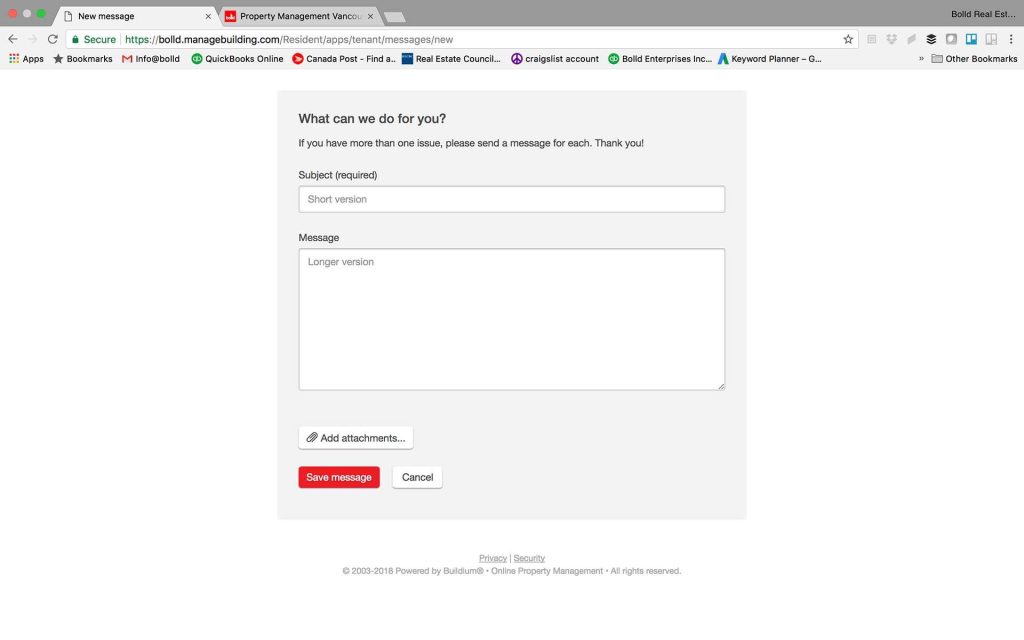 We do understand that most of us work during the business hours and it might be a challenge to accommodate the contractor's availability. We have a relationship with all the contractors we send to your home. If you are not able to be at home, please do indicate in the form that you authorize us to enter your home in your absence. The landlord is entitled by law to access your home for the maintenance purposes by serving you a 24 hours notice. We wish you to be comfortable in you home and we keep this process as transparent as possible and we will always provide you with a proper notice in advance.
You can access the form by clicking on the link below or log in to your profile on our resident portal.
Ending the Tenancy
Prior to submitting your notice to end the tenancy, please review your tenancy agreement (refer to the section "Documents" above). As per the Residential Tenancy Act, you are required to serve a one month notice prior to your move out.
Ending the Tenancy Guidelines (as per Residential Tenancy Act)
The end of the tenancy date must be set for the last day of the month.
You are required to accommodate showing times for us to be able to re-rent your home.
You must vacate the already cleaned premises by 1 pm on the last day of the month
Your security deposit will be returned to you directly to your account within 15 business days from the date you provide us your forwarding (new) address. Please note that the landlord is not obligated to return your security deposit until the forwarding address has been provided.
Ending the Tenancy Prior to the End of the Fixed Term
We do understand that sometimes our life circumstances change and we are not able to complete the fixed term of the tenancy. There is few things to consider when ending a tenancy prior to the expiry of the fixed term:
You are responsible for the rent until a new qualified tenant is found or until the end of the fixed term, which ever occurs first
The landlord is required to mitigate your damages by actively looking for a new tenant. We do encourage you to spread the word among your friends and actively look for a prospect.
You are responsible for payment of a fee called Liquidated Damages. This covers the cost of re-renting the place. We do not charge the owner a fee if the tenancy is terminated prematurely and we do need to work and incur expenses in the process.
You can submit your notice to end the tenancy by clicking on the link bellow.
Cleaning your Home before Move Out Inspection
At the time of move out inspection, your home needs to be fully cleaned. The simple way to think of it is to think how clean would you want to have your place cleaned at the time of your move in. Often we have a tenant moving in the same day following your move out. If your place is not fully clean we need to hire professional cleaners and the bill will be deducted from your security deposit. Typical hour fee is between $35 to $50 per hour. If you would like to have a stress-free move out, we can arrange professional cleaners for you. It will be our responsibility to make sure the cleaners do a proper job. Professional cleaners do the cleaning on a daily basis and have the proper tools and cleaning supplies to get the job done.
Please review the cleaning checklist below to see what the requirements are. It is a useful tool to make sure that you do not miss anything. You can also share the link with your cleaners that you hire.
Understand your Rights- The Tenant & Landlord Guide
Are you wondering about your rights as a tenant? The Residential Tenancy Branch has prepared a guide for the landlords and tenants to help them understand their rights and responsibilities.
You can download the guide below.